Million Dollar Highway Women's Ride
MILLION DOLLAR HIGHWAY WOMEN'S RIDE
Early morning on June7th of 2017, women worldwide  in Silverton, Colorado, ride together in a "One of a Kind" adventure to collectively and virtually ride the Million Dollar Highway, with the end result being each rider will become a part of history.
Once the photo op wraps up on the Summit of Red Mountain Pass, riders will head north once again on Hwy 550 following the path of the Red Mountain Creek as it joins the Uncompahgre River, enters into the Uncompahgre Gulch and finds it's way to Bear Creek Falls. Thanks to the "Riding Buddies" provided by (sponsor name), it will be all about the photos as we line up in front of the Falls. Those last 3 miles called "Riding the Snake" will land us into the south end of Ouray and Twin Peaks Lodge and Hot Springs.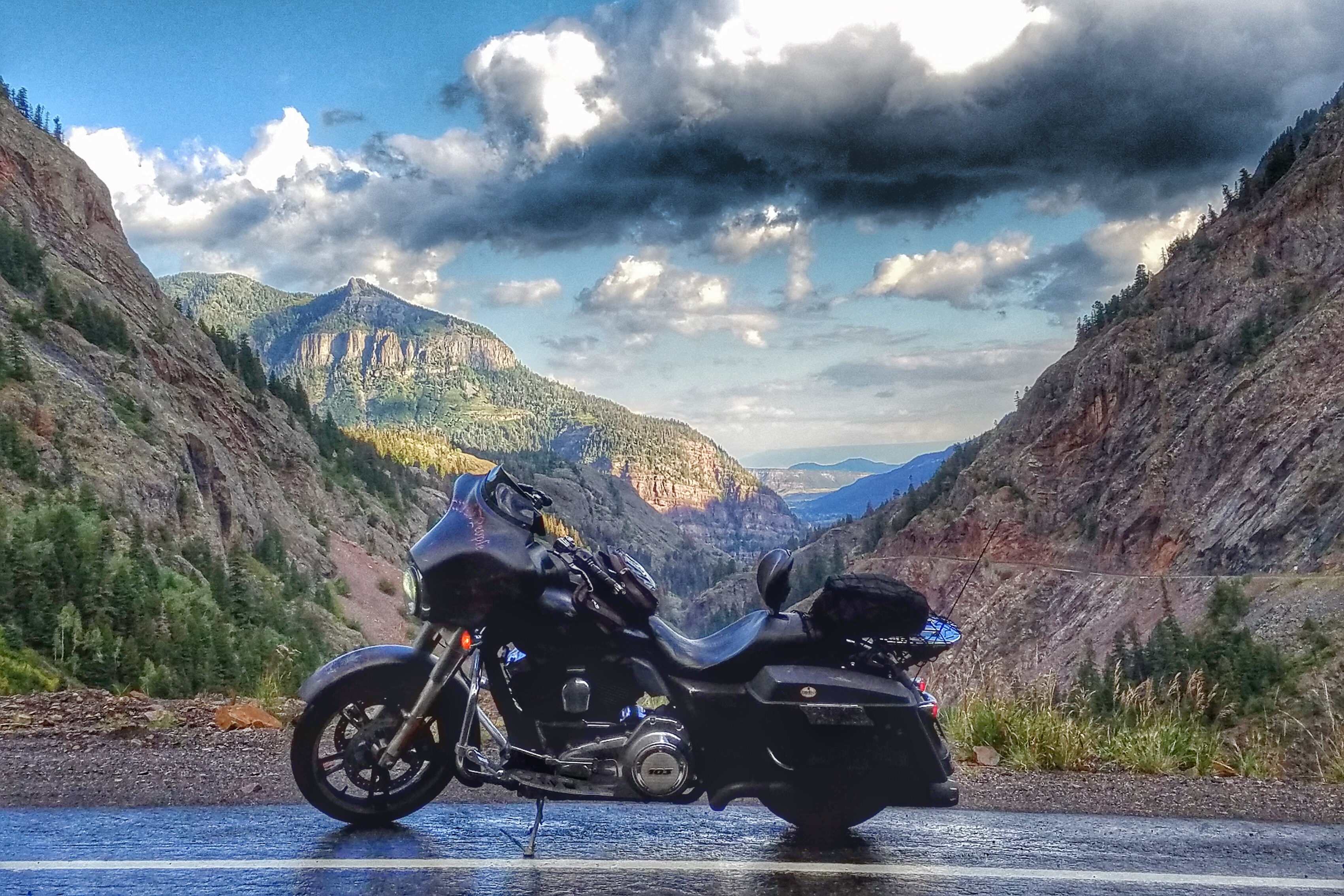 THE WHY … Is Where THIS STORY Gets Thrilling:
To Establish

the Annual Red Mountain Pass Women's Ride,

To Amplify

the awareness of what and who 'Becoming S.T.R.O.N.G. really is,

To Benefit

the infant initiative, BECOMING S.T.R.O.N.G.,

To Accomplish

together what we cannot accomplish alone.
Wednesday Morning Schedule
S.T.R.O.N.G. WOMEN OF THE STEEL HORSE SISTERHOOD RIDE THE MILLION DOLLAR HIGHWAY
8:00 am – Breakfast at Location TBA
9:00 am – Meet up at Silverton Harley-Davidson – 1st In Line, 1st Out. Riders will leave in groups of 5 – 8 depending on the size of their group. We will keep riding groups together
9:15 am – Kickstands Up – Rider groups will be released as they are ready
9:45 – 10:30 am – Riders will begin to Arrive and line up at the Summit of Red Mountain Pass
10:30 am – Photo shoot of entire group at the Summit of Red Mountain Pass
10:45 – 11:15 am – Kickstands up heading for Bear Creek Falls
12:00 – 12:30 pm – Photo shoot at the Bear Creek Falls
1:00 – 2:00 pm – Arrive at Twin Peaks Lodge in Ouray, Colorado
1:00 pm – WOMEN'S MOTORCYCLE SUMMIT REGISTRATION
                  TWIN PEAKS LODGE AND HOT SPRINGS GUEST CHECK IN
What is "BECOMING S.T.R.O.N.G."
A Program Enabling Women To Help Themselves To Right the Wrongs of the Past
WE BELIEVE STRONG WOMEN INSPIRE STRONG WOMEN
Beginning in 2017  "BECOMING S.T.R.O.N.G." will begin to work  directly with women in the motorcycle community offering support, tools, and access to life-changing training to move from crisis to stability and a life filled with joy. Read more.
How can we become involved?
Become a fundraiser. Read more.
Register Now …  and set a fundraising goal …
Studies show that when women are supported and empowered, all of society benefits.
What about experience? Do we need to be seasoned riders?
No. This event is located in the heart of the "NEW & IMPROVED"  Million Dollar Highway, the best motorcycle riding filled with limitless potential for riders of All Skill Levels.
For those who are attending the 4-Day Women's Motorcycle Summit, will we arrive in Ouray on time to enjoy the Opening Celebration?
Yes. Those riders enjoying the extra day for the Silverton/Durango event will  "Become Officially Amazing" and arrive in Ouray in plenty of time to join in the festivities.
Is wearing a helmet required to ride in the Million Dollar Highway Women's Ride?
All riders attending the Million Dollar Highway Women's Ride must abide by the laws of the state we are riding in.

The Street Horse Sisterhood Charities recommends the use of helmets for safety while riding.  
How do we volunteer?
Email joan@ladyroaddog@gmail.com                                                                                       
PLEASE NOTE IF YOU HAVE QUESTIONS PLEASE CONTACT JOAN@LADYROADDOG.COM
Experience the America's Summit Challenge!
RIDE SAFE! REDUCE YOUR RISK, WEAR A HELMET AND PROPER GEAR, RIDE AT YOUR OWN PACE & RETURN TO BASECAMP!